LEARNING SHOW
85767253
|

Trademark
Interested in this case?
Request a Demo
Track this case, and find millions of cases like it, let us show you how.
Registration No.
4,441,594
Class
Pre-recorded videotapes, motion picture films, photographic slide frames and audio-visual recordings offered on disc and via computer through downloading featuring instruction in the areas of business management, employee relations, employee development, quality customer care, sales, business leadership and marketing, human resource development for the promotion of employee retention, career growth and increased productivity for employees and employers; 021; 023; 026; 036; 038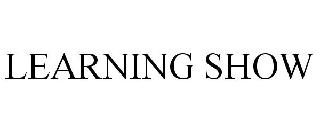 Status
Registration cancelled because registrant did not file an acceptable declaration under Section 8. To view all documents in this file, click on the Trademark Document Retrieval link at the top of this page.
Last Updated: 2 months, 2 weeks ago
Show Interactive Timeline
| Filing Date | # | Docket Text |
| --- | --- | --- |