DUKABEL
88062155
|

Trademark
Interested in this case?
Request a Demo
Track this case, and find millions of cases like it, let us show you how.
Examining Attorney
EMILY M CHUO
Interlocutory Attorney
JENNIFER KRISP
Class
Audio interfaces; Audio- and video-receivers; Cables, electric; Coaxial cables; Electric door bells; Electronic products for the manipulation of the frequency, time, and amplitude characteristics of audio signals, namely, audio processors; Light conducting filaments; Wires, electric; Computer peripheral devices; 021; 023; 026; 036; 038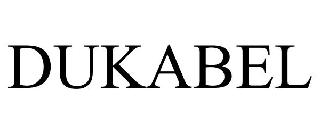 Status
Abandoned after an inter partes decision by the Trademark Trial and Appeal Board. For further information, see TTABVUE on the Trademark Trial and Appeal Board web page.
Last Updated: 2 years, 11 months ago
Show Interactive Timeline
| Filing Date | # | Docket Text |
| --- | --- | --- |