DUKE & DARLING
88114044
|

Trademark
Interested in this case?
Request a Demo
Track this case, and find millions of cases like it, let us show you how.
Examining Attorney
CAROL A SPILS
Interlocutory Attorney
GEOFFREY MCNUTT
Class
Clothing for animals; Collars for animals; Leashes for animals; Bags for carrying pets; Pet tags specially adapted for attaching to pet leashes or collars; 001; 002; 003; 022; 041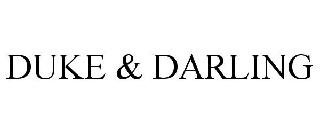 Status
An opposition after publication is pending at the Trademark Trial and Appeal Board. For further information, see TTABVUE on the Trademark Trial and Appeal Board web page.
Last Updated: 2 years, 11 months ago
Show Interactive Timeline
| Filing Date | # | Docket Text |
| --- | --- | --- |